The IP PBX server, Slican IPL-256, is the latest generation product to implement an uniform IT platform using VoIP, GSM and TDM technologies. Excellent quality and flexibility formed the basis for designing safe VoIP network solutions for up to 100 users. IPL-256 exchanges feature easy configuration and construction of systems – networking and integration have never been so easy.
Features
Features
DISTINGUISHING FEATURES
works with Slican system phone types Upo, IP and SIP
works with Slican CTI Communicator: MessengerCTI and WebCTI – applications up to stationary and mobile operation
open protocols (HTTP / EbdRECP / TAPI / HOTELP / XML / CTIP)
VoIP Internet telephony / integrated IP gateway
advanced cost management and control
networking using LAN / WAN
integrated conversation recording
control of external devices
emergency power supply (option)
wall-mounted and RACK enclosure
Hardware specifications
IP PBX server, IPL-256.WM
The base unit of the IPL-256.WM IP PBX server can be used:
up to 54 analogue public lines
up to 56 ISDN BRA (2B+D) int/ext.
up to 2 ISDN PRA (30B+D) links
up to 112 analogue internal ports / extensions
up to 112 digital system ports
up to 100 VoIP users
up to 100 VoIP trunks
up to 32 GSM ports (3G/2G)
IP PBX server, IPL-256.EU
(RACK mounted version)
The base unit of the IPL-256.EU IP PBX server can be used:
up to 64 analogue public lines
up to 64 ISDN BRA (2B+D) int/ext.
up to 2 ISDN PRA (30B+D) links
up to 128 analogue internal ports / extensions
up to 124 digital system ports
up to 100 VoIP users
up to 100 VoIP trunks
up to 32 GSM ports (3G/2G)
IPL-256 IP PBX server dimensions:
WM version
hight
width
depth
weight
492 mm
416 mm
163 mm
8-10 kg
RACK version
hight
width
depth
weight
134 mm
(3U)
483 mm
19″
310 mm
8 kg
Integration
Integration
The IPL-256 server as an element of an IT system: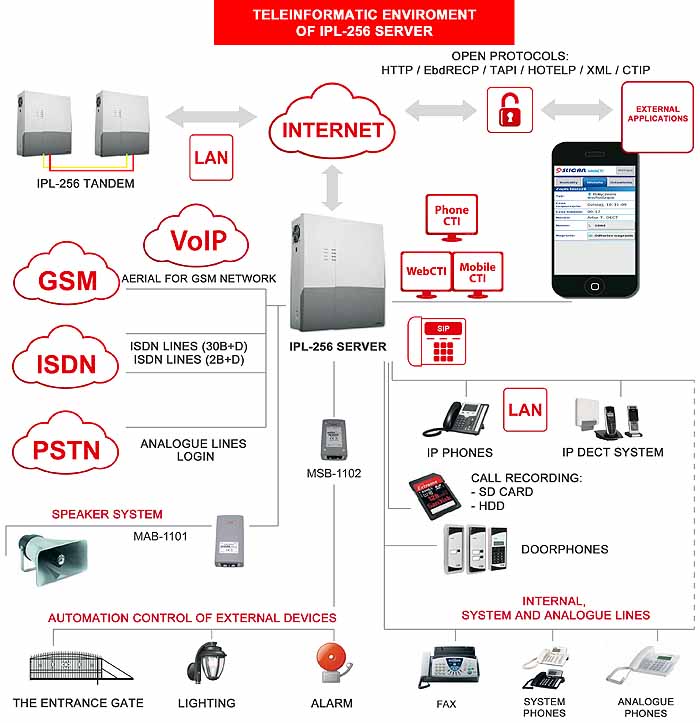 IIPL-256 server – integration with PC applications:
(PhoneCTI / WebCTI / XML / HOTELP/TAPI)
The latest generation Slican CTI application bundle supports team work and cooperation. This is a set of intuitive solutions to operate on PCs and smartphones. Integrates extended telephone connectivity functions with "select and click" operation.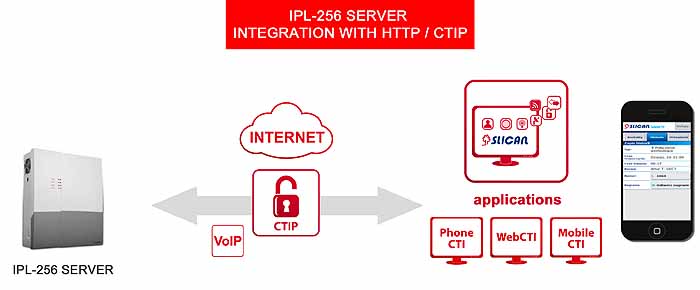 The applications were designed around the concept of universality and the availability of many devices. They can be implemented without the need for any additional server besides the IPx Slican series solutions.The latest generation of Slican CTI solutions include:

Slican PhoneCTI – an extended communication system which integrates voice communication with chat, SMS and WWW solutions. Coloured icons give the current availability status of the caller (available, busy, out of office, etc.) and enable the selection of the best method of communication. PhoneCTI enables the customer to access the company and private telephone book. They can be modified as required. The following actions are available from the application level: teleconferences, transfers and notifications. PhoneCTI enables recorded conversations to be played. It integrates all contacts and enables efficient, rapid communication.
Slican WebCTI –  a friendly application available through the Internet which enables various phone behaviours to be defined – blocking selected calls, activation of Slican MobilePhone service and downloading sound files with recorded conversations. WebCTI informs the client about the state of their account – the costs of completed calls enables the history of all contacts to be tracked in the same way as with Slican PhoneCTI. Chats, SMS, phone conversations organized in the form of a transparent history, grouped by client, date, etc. may be used as an additional element of the CRM system in a company.
Slican MobileCTI – mobile version of Slican WebCTI application, i.e. support and management of your "phone" from a mobile phone.

The open protocols used by the IPL-256 server enable integration with CRM class programs, hotel applications or external e-mail applications. The combination of telephony with external databases enables better and more complete use of information concerning customer service. This facilitates everyday communication, supports sales processes and streamlines information flow.

The IPL-256 server with CRM – more information, better communication:

phone calls from the level of contact data in a CRM application records can be made by clicking on a telephone number displayed on the screen
viewing active phone calls within the company from a CRM application level
phone call billing – cost control, possibility to assign them to a project, to costs of customer service or to other types of cost used by the specific company
downloading phone calls recorded in telephone exchanges and attaching them to CRM contractor's files
assigning text memos or records from telephone exchanges to client's files.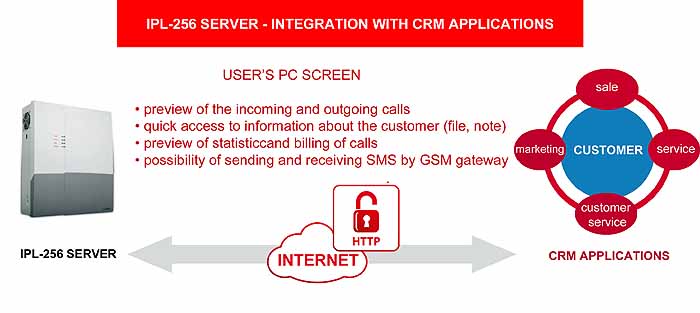 The IPL-256 server with the hotel application – streamlines the operation and mangement of:
electronic locks, interphones, parking gates operated from the reception or other hotel phone-based services
operation of room-status: cleaned, failure, etc.
handling mini-bars in rooms: full, to replenish, etc.
audio surveillance and recording – audio monitoring of selected rooms
recording – permanent or temporary recording of conversations and data about calls to and from the reception
intercom – sound and PA system – calling people, reception announcements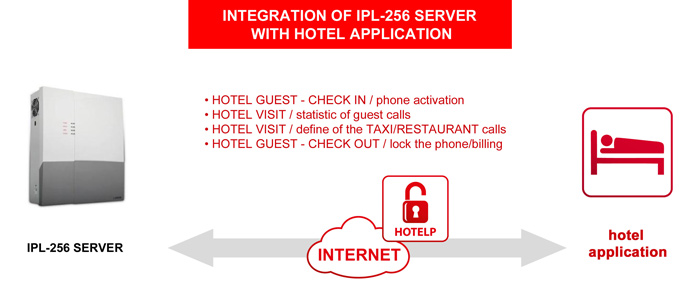 TAPI – integration of the IPL-256 server with MS Outlook:
contacts from the MS Outlook database are used directly from the mail account simply by clicking the "Make a call" window
other applications are not required for cooperation and integration with a PC
each incoming call results in the display of the contact's "business card" on the computer screen and gives immediate access to memos, mails, etc.
when calling companies/people from the MS Outlook contact database you can use other functions of Microsoft applications – recording phone conversations, calls to contact groups, etc.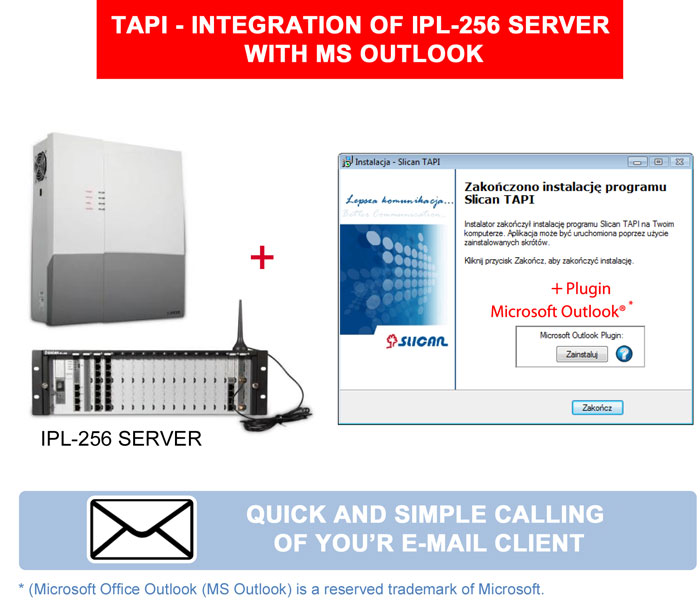 Networking
Networking
Advantages of networking using the IPL-256 server in an IP network:
(VoIP protocols: eSSL or SIP 2.0)
creating of Slican servers network – up to 15 servers / up to 3999 subscribers (extended Slican Smart Link protocol)
logging of up to 100 VoIP operators
possibility to use up to 32 VoIP channels
possibility to network with other manufacturer's servers (SIP 2.0 protocol)
networking tandems – creating a convergent network
using server functions – Mobile Phone, CallBack, call transfer, call relay, CLIP number identification, etc.
using open CTIP protocols (cooperation with WebCTI / PhoneCTI)
use of open HOTELP protocol (enables cooperation with different hotel applications)
cooperation with IP DECT system phones
integrated Ethernet (LAN / WAN) interface for local and remote management
remote access through ISDN
voice over IP transmission
regardless of the number of linked Slican servers, they can be centrally managed by a single administrator from one work position
telecom cost reduction thanks to integration of subscribers from various locations into one network
More about Slican servers linking.
Networking by connecting IPL-256 servers to a LAN / WAN network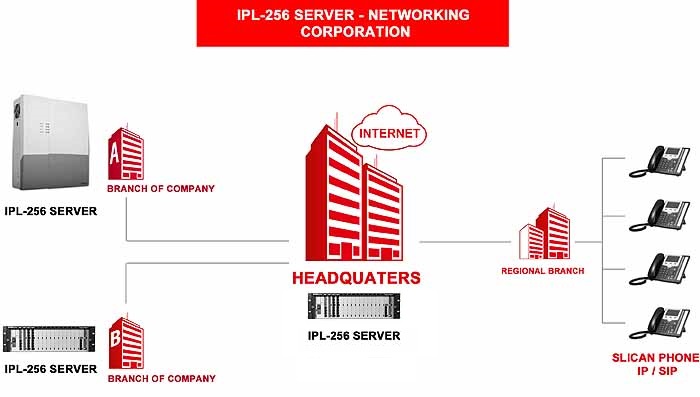 Networking IPL-256 servers in a single telecommunication structure results in the possibility to support larger numbers of users using VoIP links:
224 ports in IPL-256.WM
256 ports in IPL-256.3U
Convergence of IPL server tandems results in a server system using separate software.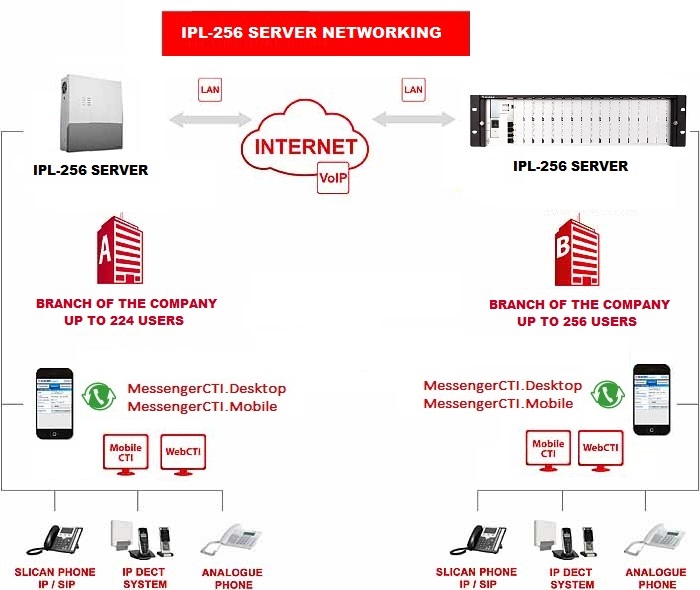 IPL-256 IP PBX server – as an application and protocol server:
The IP PBX IPL-256 as a server for the CTIP, XML, HTTP, HOTELP, TAPI and EbdRECP protocols enables integration with different applications by other manufacturers with the added value of implementation of industry software without additional investment costs associated with hardware and other equipment.
Slican's company applications were designed around the idea of universality and the availability of many devices. They can be implemented without the need for any additional server besides the IPx Slican class solutions. CTI Slican tools provide comprehensive communication by increasing the efficiency of a business and administration for internal communication and external PBX networks.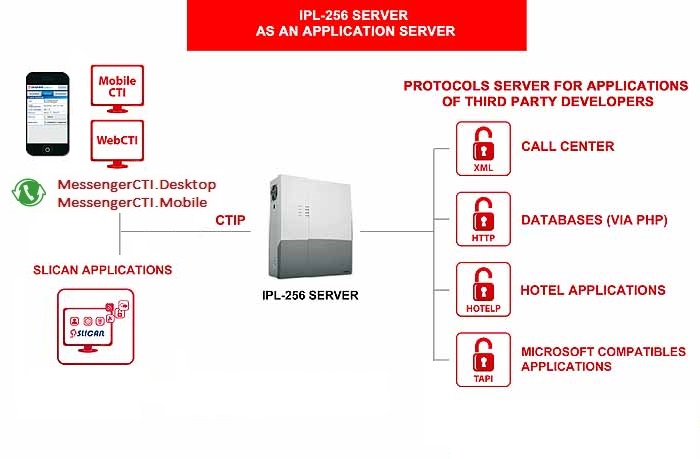 Cost control
Cost control
The IPL-256 server ensures full cost control of phone calls. The applications offered provide post and online information about the generated call costs and functional solutions used in servers to optimize costs for telephony in the company. The customers have LCR functionality and the Slican BillingMAN application at their disposal, the use of these applications bringing notable benefits and savings.
LCR (Least Cost Routing) is a telecommunication solution which enables routing of outgoing calls by PBX to the specific operator's network, VoIP or GSM gate while also selecting the least expensive route. System LCR can also select calls from the services of a single operator, e.g. by selecting from among different tariff rates.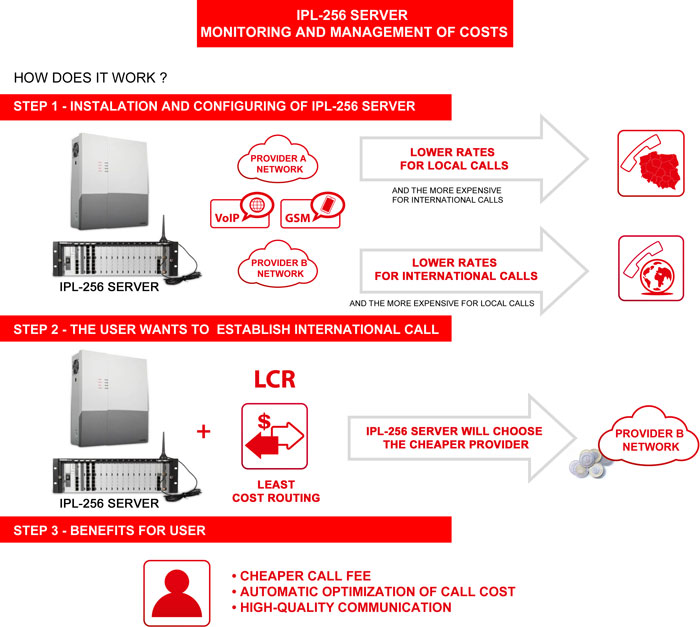 The IPL-256 server uses data from telecommunication operators (tariffs saved in the system) and autonomously routes the traffic to a link which is currently available at the lowest rate. Depending on the user's decision and network resources it is possible to define routing of international traffic through a cheap VoIP network and to make calls to mobile phones through a GSM card installed in the Slican server. Calls between company callers are then completed using the operator's offer at promotional prices or even free of charge.
Slican BillingMAN enables the settling of calls based on price lists and tariffs specific for each operator or defined individually by the server owner. The application is great for settling traditional tariff plans, such as per second tariffs and initial fees. Extended version of the application – BillingMAN.plus additionally creates statistics concerning the number of generated calls and occupation analysis for individual lines stemming from it.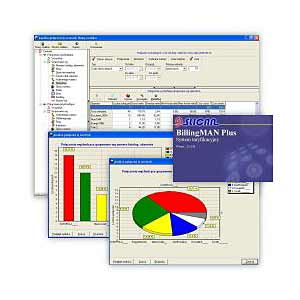 The data is summarized in the form of tables and charts, presenting the analysis results in a quick and convenient way. The reports may be prepared using time as a parameter – for a specific day or for a selected number group (e.g. for a sales department), a single subscriber or for a selected call category, e.g. international calls.
The reports may be also created for incoming traffic. The information collected by the analysis module may prove whether the phone traffic in a company is organized correctly or what steps need to be taken to improve it. The information may serve as a valuable guideline for the organization of departments such as Call Centers, services and other services which must be always available for contractors.
Organization
Organization
CALL CENTER
Reaching clients efficiently, offering effective and professional service as well as easy contact with the company have a key meaning in the operating strategy of a modern company. Good work organization is a basis for the correct operation and development of a company. It is very important for Call Centers to minimise the reaction time for incoming calls and to provide fast resolution of the clients' issues. The IPL-256 server is a great solution which will enable your company to create an efficient Call Center in any company.
Advantages of using the IPL-256 IP PBX server in Call Centers:
alternative for costly systems created with extended Call Centers in mind
flexible adjustment of the server size to meet the individual needs of the company
possibility of integration with external, additional applications to improve the organization of the operation of the Call Center
Thanks to the integration of the IPL-256 server with Call Center applications, the user achieves the following:
identification of incoming numbers and caller data before answering
quick access to information associated with the client in an ERP system
access to incoming call history to facilitate supervision of the client communication process
transparent data presentation
easy addition of new customers to the Call Center database
convenient access to billing information categorized by individual consultant and customer
recording and archiving of conversations with Call Center customers
flexible integration due to use of open protocols with external protocols in accordance with caller requirements
Advantages for a Call Center of using the IPL-256 IP PBX server: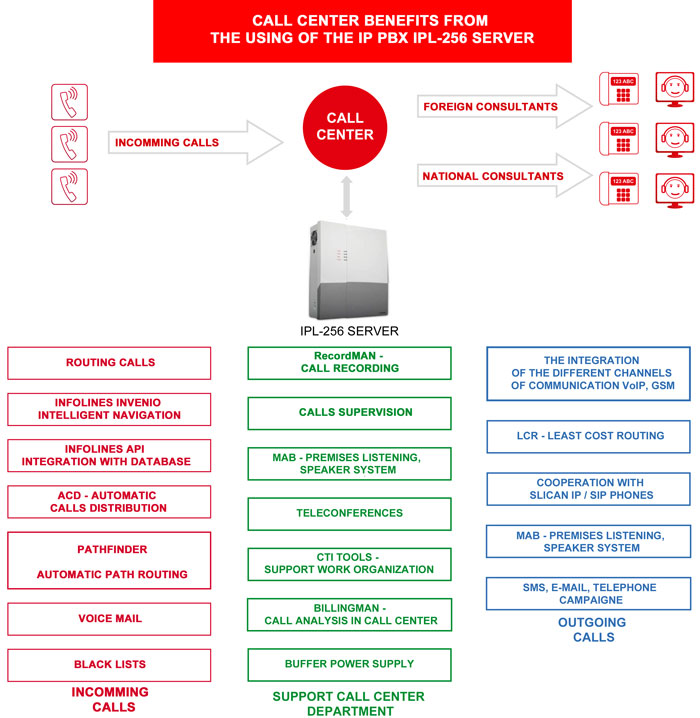 INVENIO infolines
Flexible navigation, friendly and useful to customers calling the company or clients who need to contact an office. Using a Slican INVENIO infoline ensures that the customer does not have to listen to long announcements or music. INVENIO enables quick connection with a specific department or extension number.
the company or office staff may receive fewer calls since they only have to answer calls requiring personal contact
all incoming calls will be answered
multiple incoming calls to one number can be answered
a caller may contact the operator at any time and from any level of INVENIO
INVENIO infolines enable messages to be recorded, information to be given or music to be played to customers waiting to be put through. This may include information about a current promotion in a hotel, restaurant menu or an important announcement in an office. INVENIO infolines may be used by sales departments to organize competitions or promotional actions. INVENIO enables clients to be served in several languages. Selecting the language for messages may be done at the beginning of the call.
Slican information lines enable the most important customers to be highlighted by assigning them a VIP PIN, which gives priority phone calls with a specific employee, i.e. "VIP customer account manager". The IPL-256 enables you to create up to 99 different information lines and combine them together to create comprehensive automatic address systems.
Example use of an INVENIO infolines in an IPL-256 server: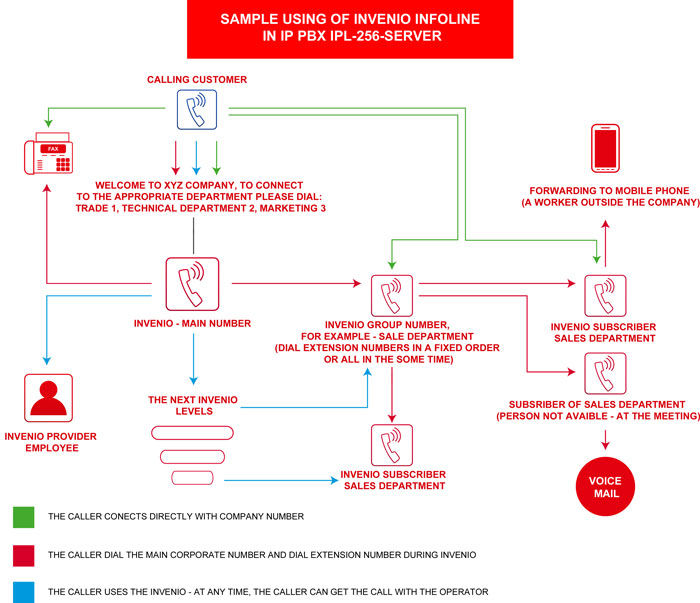 The latest API infolines enable integration of information sent from an external database with the data recorded in the IPL-256 server.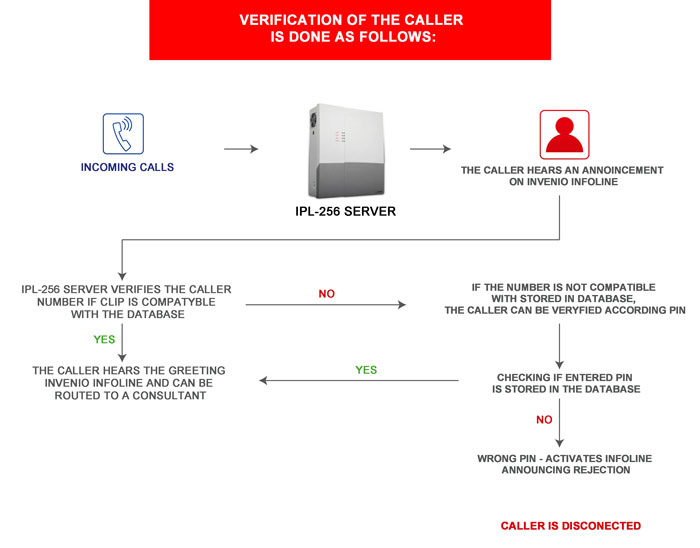 You need only the IPL-256 server and a company customer database to achieve efficient organization of work. Reliable integration will enable the company to offer efficient customer service at the highest level. Calls intended for field offices will be rejected.
Example of an API information line being used in a consulting company: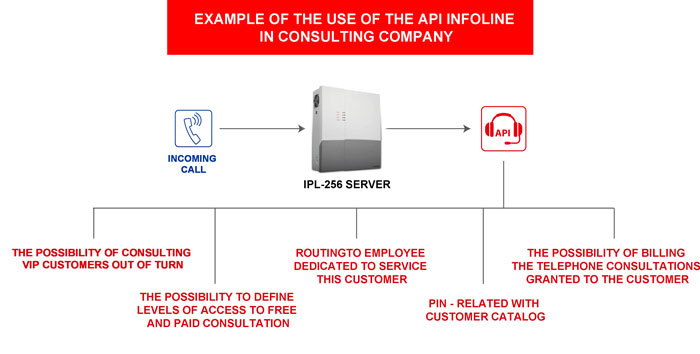 RecordMAN
The quality of customer service is very important in small, medium, or large companies. Many companies and institutions require modern solutions which enable the recording of phone calls and management of the recordings Slican RecordMAN is an application suite intended for cooperation with the integrated Embedded Recording system.
RecordMAN includes two applications:
RecordMAN.server – enables records to be downloaded from telephone exchange resources and copies to be made on the hard disk of a computer connected to a local network
RecordMAN.client – to search for and listen to records, with filtering and playing functions available using different criteria
The application offers high reliability, in particular for companies and public institutions where all calls are recorded.
the IPL-256 server can be used for the simultaneous recording of up to 12/36 channels (using SD/HDD memory)
the duration of recorded calls is limited only by the capacity of the disk used for storage
guarantees extensive tools and filters for searching records
levelling of rights to download and listen to the records; password protection guarantees high security level
facilitates work; listening to the calls recorded by a specific company and multicontextual analysis enables quick reaction to signals from customers
supports the operation of government and local government administration units by recording calls in emergency notification centres, applicants' calls to offices, etc.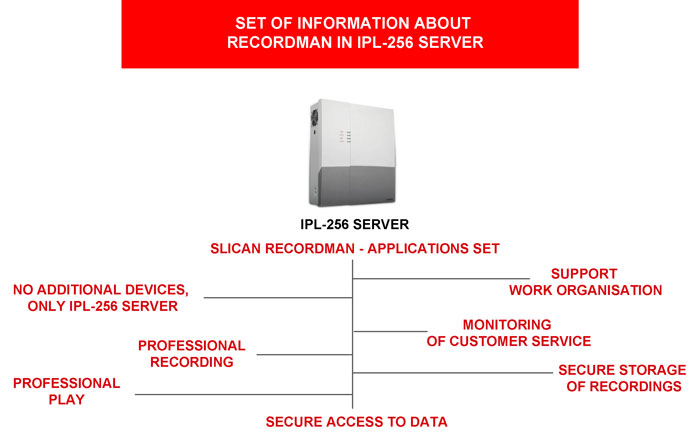 Teleconferences
Using the teleconferencing function offered by the IPL-256 IP PBX server lets you improve how work is organised. Employees are not distracted from their work by the need to take business trips lasting several days. They simply return to their work and customers after the teleconference is over. Slican's teleconferences are an economical and optimum solution for companies.
The IPL-256 server enables you to use teleconferences both for company exchange subscribers and for external numbers, including GSM and IP. Teleconferences facilitate management and information flow, which optimizes work organization. Conference solutions for up to 12 participants are available, and up to 4 simultaneous conferences are possible.
A teleconference can be set up:
using a system phone
by programming conference participants using the Slican ConfigMAN
Slican teleconferences are also available in three versions:
CONFERENCE GROUPS – optimum teleconference solution for subscribers who organise regular teleconferences with a fixed list of participants or with a rarely modified list.
CONFERENCE ROOMS – a solution for distributed organizations which need to set up ad hoc teleconferences with varied lists of participants.
PRIVATE CONFERENCES – available for all users of Slican system telephones (with the exception of CTS-102.HT). The person initiating a private teleconference automatically becomes its manager and can invite subscribers from internal and external networks, including IP or GSM subscribers.