Slican NCP – a system of great capabilities
The Slican NCP is an IP telecommunications platform that supports up to 500 concurrent voice calls and 40 video connections for up to 10,000 users. With its excellent communication quality and high flexibility, the system provides a foundation for building secure VoIP solutions.
PUTTING YOUR NEEDS ABOVE ALL ELSE
Slican NCP is a unified communications system with wide range of services: contact center and call center, communicator, chat, sms sending, automatic generation of announcements Text2Speech, calls recording, voice2mail, fax2mail, conferences and video conferences, manageable call queuing and other. It can accommodate businesses and institutions with branches located at multiple locations. Effective management of system elements and services within a multi-branch company is ensured by flexible software with LAN and WAN connectivity and INT-special separated network connected only for GWX shelves.Slican ConfigWEB which readable iterface is a efficient tool for build and configure your own system via a web browser.
Comfort of communication
Comfort of communication
Packet-based data transmission, quick communication between branches and additional connection routes for telecommunications traffic in the event of failure will ensure top-level customer service. Call histories can be analysed to identify and resolve performance bottlenecks. Quick and simple access to the exchange via Ethernet allows for immediate response and improves system management. System security is based on video and voice connection encryption, (TLS/SRTP) and redundancy (NCP-CM400P and NCP-CM600P), the doubling of the system components to ensure continuous operation even during a technical failure.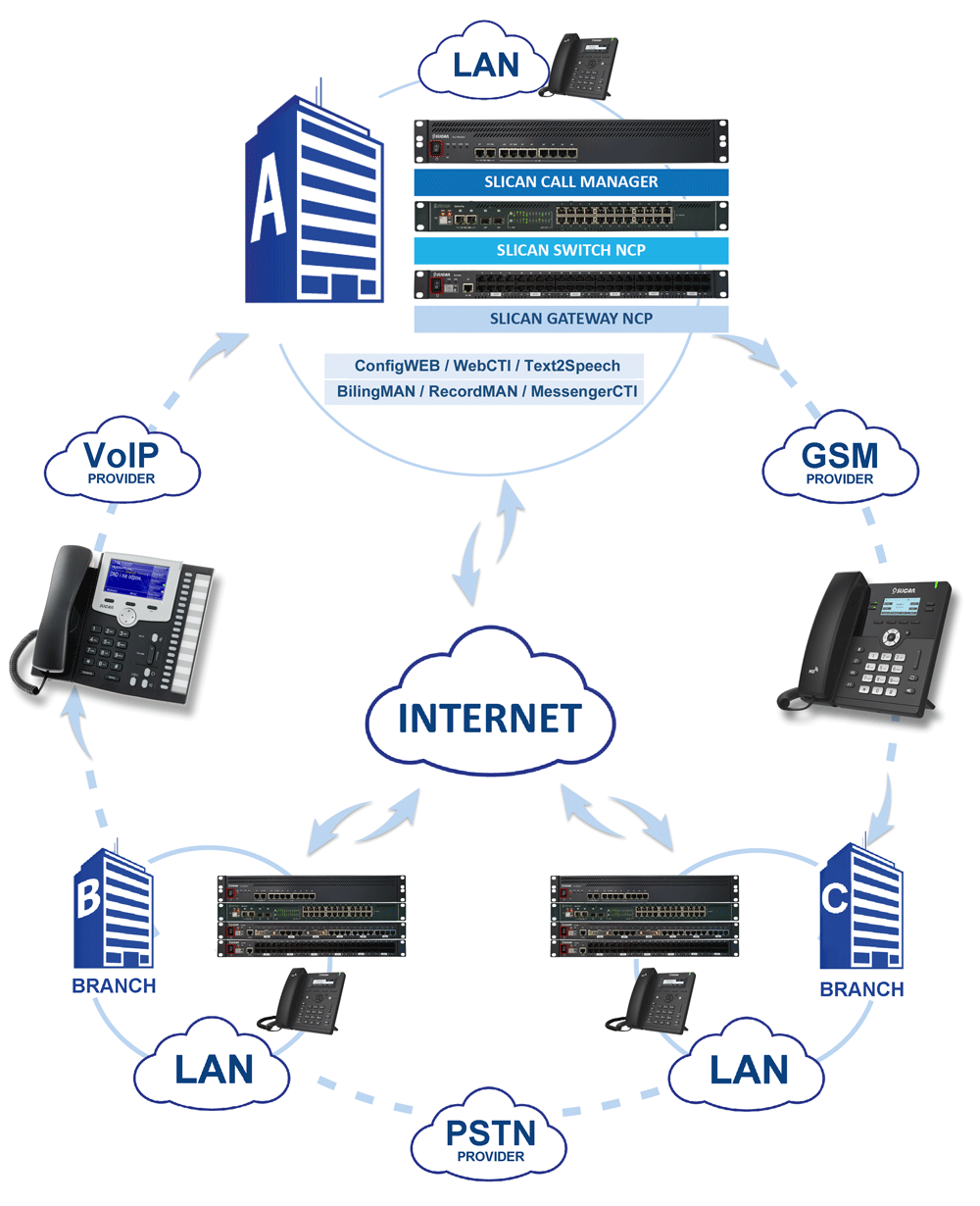 Voice calls as well as billing data, can be recorded. Server provides LDAP protocol support with access to the phone book in the server. Other features include integrated CallCenter system, communicator MessengerCTI for easy voice and messaging a multi-purpose voicemail system (voice2mail) and advanced IVR.  The integrated management of multiple system components from a single location with the ConfigWEB tool will make life easier for any administrator.