TAPI – phone and mailbox integration
Do you remember calling from Post Office? Well… now it can be done to, but it is another "post" and calling".
Slican joined the group of manufacturers offering PBXes supporting MS Outlook application. The connection is made using Slican TAPI protocol. With this integration from now on you can benefit from unified communications, connecting phone and email contacts.
Connection of PBX with mailbox is the most obvious appliance of this protocol because of the popularity and universality of email. But it is should be mentioned that the TAPI driver can also be used to integrate data sourcing from Slican PBX with applications such as CRM and e.g. command support systems for fire brigades.
Well, so how today we call from mailbox?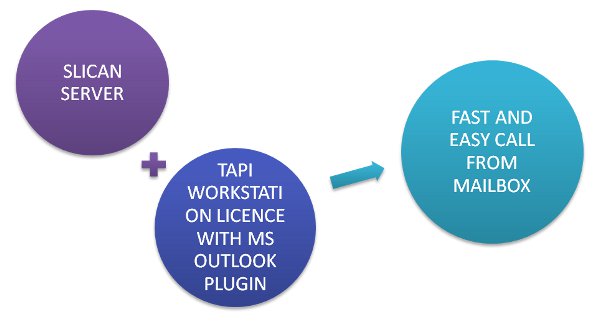 You need:
1. Slican PBX with LAN or VoIP module.
2. Slican TAPI.workstation licence with Microsoft Outlook plugin.
You need as many TAPI workstation licenses as many users of MS Outlook will use calling from email. There is no limit of subscribers using TAPI protocol. It can be used by all subscribers of the PBX up to its maximum capacity.
TAPI workstation Installation is very fast. Its configuration requires an extension number (subscriber's number) and a PIN code for a phone. Any changes in PBX settings, programming should be realized by Slican authorized service or responsible for PBX administration person.
What are benefits of integration of phone with MS Outlook mailbox?
You use all your contacts that you have the basis of MS Outlook – their phone numbers need do not have to be copied to the PBX phone book to simply call them by clicking "Call" on your computer screen.
You do not need any additional applications that integrate your phone with your computer.
Any incoming call from someone you have in a database of contacts effects with display of "business card" of the contact on the computer screen. You know who, from which company is calling, you have access to your notes, old emails, etc.
If certain numbers are dialed frequently, you can create a speed dial list.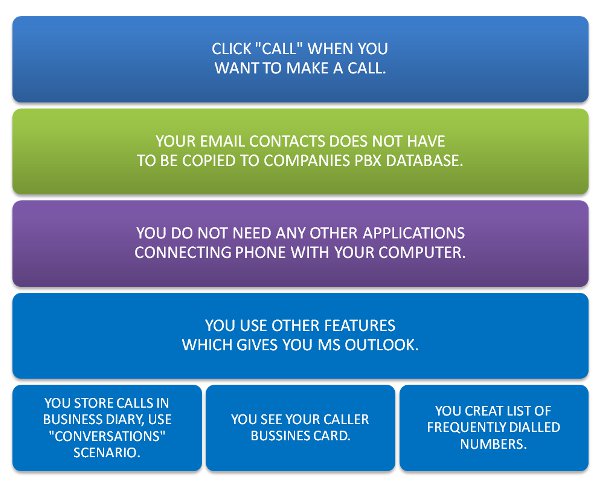 Additional information
Microsoft Outlook application allows dialing any phone number. Access to some connections may be based on privileges assigned to the subscriber in PBX. If your computer is used in different places, you can configure it to dial in other way from different places. You can specify how to dial numbers from the current location (using the current country code and the corporate network), and describe how to dial a number from the hotel, house, etc.
Information how to configure TAPI Workstation licence on a computer we present on Slican WIKI.
Developers interested in using Slican TAPI driver for integration with their applications, we invite to cooperation. All information you will find here – Slican SDK.
(Microsoft Office Outlook (MS Outlook) is a registered trademark of Microsoft Corporation)